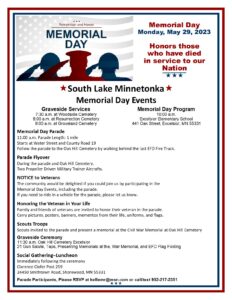 Memorial Program
10:00 a.m.
Excelsior Elementary School in the gymnasium.
Memorial Day Parade
Parade Start: 11:00 a.m.
Parade Flyover
During the parade and Oak Hill Cemetery.
Two Propeller Driven Military Trainer Aircrafts.
Honoring the Veteran in Your Life
Family and friends of veterans are invited to honor their veterans in the parade.
Carry pictures, posters, banners, mementoes from their life, uniforms, and flags.
Graveside Ceremony at Oak Hill Cemetery
11:30 a.m.
Presenting Memorials Veterans at the War Monument
Oak Hill Cemetery
After the parade
Present a token of honor to enduring memory memorials during the Graveside Service.
Memorials that have been presented in the past, wreaths, bouquets of flowers, plants, creative flag arrangements, drawings, and bags filled with Thank You notes to Veterans at the War Monument.
Veterans, make your reservation to ride in a Military Vehicle During the parade. Send Firefighter Kellie an e mail or text. kmurphyringate@excelsiorfire.org or 952-217-2351
Social Gathering and Luncheon at the Clarence Clofer American Legion Post 259 will follow the Oak Hill Ceremony.
Owners of Gary's Frist Class Car Care, Kellie and Gary are on the South Lake Minnetonka Memorial Day Committee and participate. Gary and Kellie participation includes Gary as retired Fire Chief, and Kellie as the current Fire Marshal and firefighter.
Please join on this Monday.